Arabic Translation & Interpretation Service In India
( For the Best Arabic To English To Arabic Translator, Click here)
————————————————————————————-
"Language is the road map of a culture. It tells you where its people come from and where they are going,"

Said Rita Mae Brown, American writer, Feminist and Activist.
Learning another language can open doors and take you down twisting and turning paths you might never have expected to take before. In a fast-paced, constantly changing hyper-connected world, we rely on many forms of communication to create connections and build understanding between groups. Foreign languages like Arabic can allow for unique opportunities for both personal and professional growth, so, for developing companies should be choosing the right one to invest your time in — to learn and develop it-is an important decision.
The Arabic language is one of the oldest and richest languages in the world. Arabic, as a language, is spoken in more than 50 countries across the globe. Additionally, it is the first and second official language in many countries.
The Arabic language is spoken and taught not only in the Arab Nations, but also in many Asian and  African countries across the globe. It gained its importance in the modern era, especially after the discovery of oil. Hence many MNCs (multinational companies) are preferring to work in Arab countries for that they are looking for Arabic experts to meet the expectations of Arab people.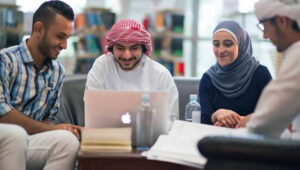 In terms of Islam, Arabic has a paramount role in the Islamic faith because Arabic is the language of the Holy Quran. Muslims hold the importance of the Arabic language in very high esteem, with most of their beliefs being inseparable from Arabic. Muslims considering Arabic the divine gift and a sacred part of their customs.
Arab people are very much excited to visit the world and to impart the knowledge, cultures, and civilizations from non-Arab people as they were doing in the Abbasid period.
And it is not possible to know the culture of any countries until you know their language and in a short span of time you can not learn the language or culture of any country, hence you need to be helped by foreign language experts. In response to this need, We, The Translingo World Private limited and it's professional team are here to serve the best Arabic to English To Arabic Translation Service in Delhi, Mumbai, Hyderabad and Kolkata, India.
The Arabic language is cardinal for MNCs to boost their resources and market appeal. However, the owner of these companies may face hurdles because of the obscurity of the language. So, in these situations, no need to be worried because the Translingo World and its experienced team are here to assist you at every moment in India and abroad.
We, the Translingo World Private limited, are the best translation company in India. We are capable of providing our clients with highly qualified, experienced, and trained Arabic translators in almost all parts of India. We, the Translingo World Private limited, provide professional interpretation in Delhi and all major areas of India, including Delhi, Mumbai, Hyderabad, and Kolkata.
If you are looking for a top-quality, well-tested, and trained translator / interpreter, then we can be the best option for you.
It is our pleasure to affirm that  we, the Translingo World Private limited, and our highly-skilled, qualified, and  professional team provide Human,  accurate, and best professional translation from Arabic to all major international languages and vice versa in Delhi, Kolkata, Hyderabad, and Mumbai,
Excellent team, genuine response time. Highly recommended.
Fantastic Job done by translingo team. Highly recommended for German to English translation
This translation agency is very good.. If any corrections required, they will do with do with great patience 🙏🙏
Fast and efficient translation service
Highly recommend for Russian to English and vice-versa translation
Recommended for English to Japanese translation and vice-versa
Nitin Surendran
16/02/2023
Translated an official document from Dutch to English. Really fast response, got the translated document in a few hours. Would highly recommend.
Manisha Bharti
14/02/2023
We also provide experts for a wide range of industrial projects and disciplines.